Machinery & Equipment
Cheap Single Girder Workshop Overhead Bridge Crane for Material Lifting
LD
Price: USD 2000.00/set
MOQ: 1 set

Description
Overhead Crane Specification
1. Load capacity: 1 t to 50 t
2. Span: 10.5 m - 33 m
3. Lifting Height: 6 m - 20m
4. Structure: Box structure type
5. Certification: CE, ISO 9001
6. Power Supply: 380V, 50HZ, 3 Phase
7. Standard: GB/T 24001-2004
Single Girder Overhead Crane Description
Single girder European overhead crane is special designed for low headroom heavy load handling application. Improved hoist trolley so that lifting mechanism and trolley traveling are at same level, saving more height for lifting. This structure highly solves the problem lifting cargo in low roof clearance workshop or warehouse.
We finish independently over 20 technological, lathing, milling, planning and grinding, have passed CE, GOST, SGS, OHSAS, ISO9001, ISO14001 and ISO9001:2001 health and safety standard. 10 ton overhead crane;Overhead crane manufacturer;
We have a perfect quality-control system, a strict management system, strong production capabilities and advanced testing measures to ensure the high production and high quality.
Overhead Crane Specification
1. Load capacity: 1 t to 50 t
2. Span: 10.5 m - 33 m
3. Lifting Height: 6 m - 20m
4. Structure: Box structure type
5. Certification: CE, ISO 9001
6. Power Supply: 380V, 50HZ, 3 Phase
7. Standard: GB/T 24001-2004

Single girder overhead crane adopts European advanced technology, designed based on international standard: FEM (Europe), DIN (Germany), ISO(International), The configurations are very advanced, such as Schneider electrical, ABM/Nord / SEW triple gear motor (three in one: motor, gear box, brake), galvanized high strength wire rope, self-adjusted disk brake, hard tooth reducer, programmable lifting limit switch, and so on.
This Europe style overhead crane is of remote control with single cable "C" track festoon system; normally, we use Europe Realm (OHM) brand

Compared with the general LD bridge crane, its weight is reduced about 15-30%, the maximum wheel pressure is reduced by about 10-35%, based on assimilating advanced technology,the single girder overhead crane takes modular design theories, modern computer technology, new material and technology and has features in strong rigidity, light dead weight, low power, outstanding design, save energy and environment protection.

Single girder overhead crane can be applied in machinery production, assembling, petrochemicals, warehouse logistics, electric power construction, paper making and railways, etc.

Single Girder Overhead Crane Feature
1. Increase the lifting height, Working in low headroom without enough space above the main girder
2. Low dead weight of computerize optimized box section
3. Aluminum alloy made drum shell, light weight, corrosion resist
4. Lifting drive units complete seal lubricate design, free maintenance
5. Traveling and lifting motors use closed type transmission gear, low noise, maintenance free
6. Modularized electrics, multiple protection, safe operation
7. Sensitive limit switch, automatically stop lifting and traveling when reach distance limit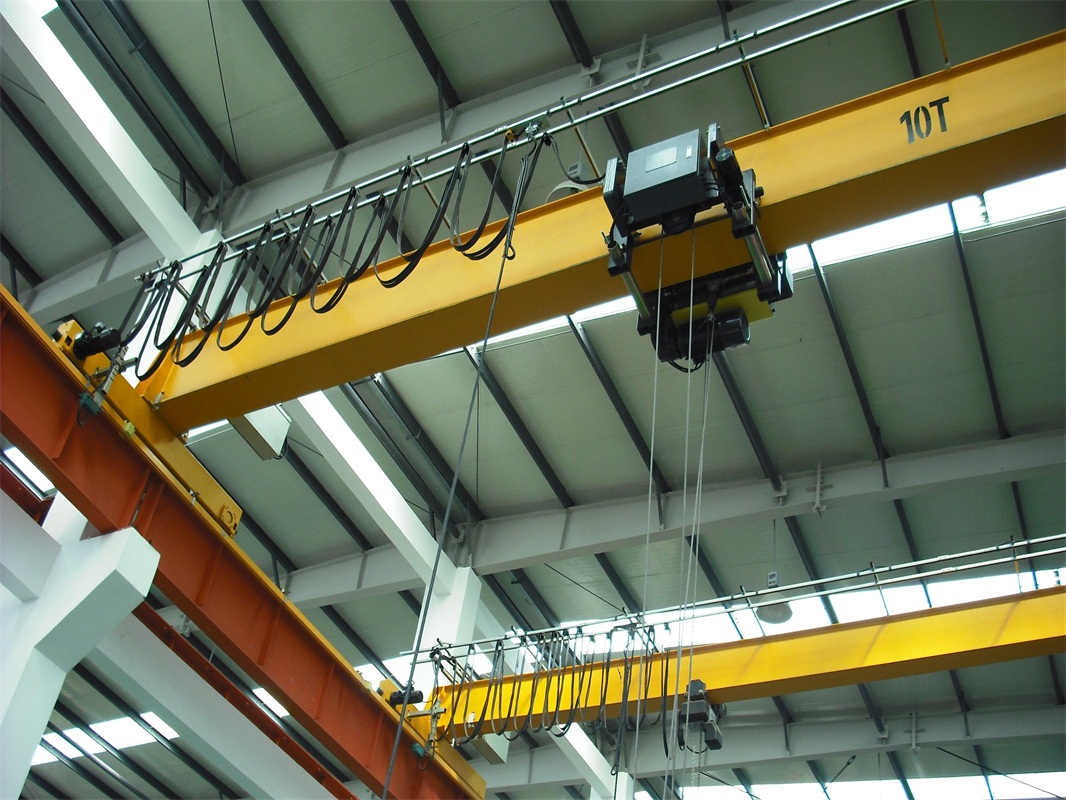 overhead crane,
single girder overhead crane,
cheap overhead crane,
Read More
overhead crane, gantry crane, jib crane, electric hoist, chain hoist, lift table, electric winch, portal crane

Read More

Contact

Tel: +863735128112
Address:
Crane Industrial Park, Henan, China, 45300

H5响应式定制设计
26种语言,SEO营销型网站
---
H5/响应式/营销型企业网站; 26种语言扩展;
覆盖: 英文、法语、德语、西班牙语、葡萄牙语、俄语、阿拉伯语、波斯语、日语、韩语
了解更多